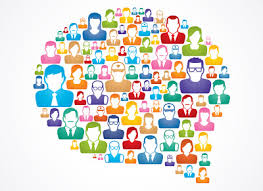 Collective intelligence is very powerful face to face, but I believe we are at the edge of making it work in very interesting ways virtually. And this opens up new possibilities for collective leadership practices at many scales.  The internet is making a huge amount possible in terms of day to day global connectivity.  But it is where we are coming from and the quality of attention we bring to this connectivity that really matters.
Collective intelligence is the capacity of a group of people to act as if from a unified or single intelligence. Each person still has their unique contribution, but these are highly aligned around a common purpose or goal. When groups function in this way it is almost as if the group has moved into 'the zone' or a flow state together. Ideas and solutions can be generated much faster and more collaboratively. It is possible to access rapid intuition working with information from diverse sources. The sense of connection within the group and the ability to tune into each other and their purpose is deepened, creativity, foresight, decision making and conflict resolution are enhanced. This is not always easy to achieve, but many of us are learning from different leadership contexts what is possible.
An Embodied State of Leadership
This is not just a cognitive state. It is more of an embodied state of leadership. In my experience there is a shift in the atmosphere, to a deeper level of flow and energy in the room. An energetic field that becomes more coherent and focused, and opens up new and more generative possibilities.  It can also become a deeply satisfying experience, keeping us deeply absorbed and connected, however hard the working context.  But of course it's not just what we experience. It's what it makes possible.  It may seem easier when we are working face to face, but this is often not possible given the way that many organisations work now.
I have been part of several powerful experiments in growing the field of collective leadership virtually over the past couple of years, as well as being part of global virtual teams. These experiences have made me believe that we are just at the edge of discovering what is possible virtually and that this is a rapidly evolving edge for experimentation and discovery.
One of these contexts is the exciting and fast evolving U.Lab launched earlier this year by the Presencing Institute in the form of the MIT sponsored MOOC:  MITx U.Lab. The U.Lab has been designed to develop a new collective leadership capacity on a global scale, in the form of a MOOC.  Participants take part virtually and many are also meeting face to face in groups or hubs.  At the core of the U.Lab is Theory U, an approach to leading profound change which allows leaders, entire organisations and larger systems to connect with their highest future possibility.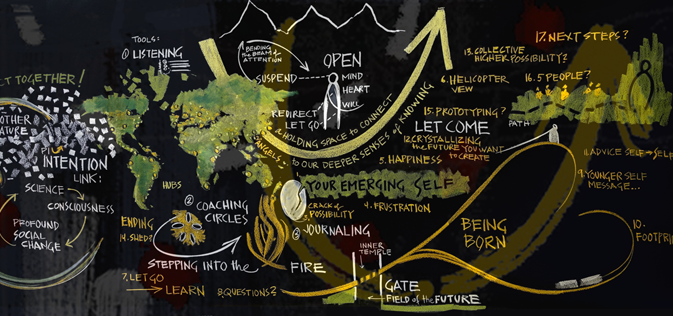 The global reach of the U.Lab is phenomenal. The first version of this ran in early 2015, with 30,000 people from 190 countries enrolled and 42 Impact Hubs connected with it globally. In the current version U.Lab 2.0, the second live experiment (Sep-Dec 2015) there are now over 42,000 people taking part, including business leaders in the U.S., Brazil and China. Future Considerations has formed a hub too.
Core to this are the Theory U practices for connecting up the intelligence of head, heart and hands. During the live webinar sessions Otto Scharmer and his team have highlighted the role of what it means to lead with an open heart and to tune the instrument of the heart when we are working collectively and responding to complex challenges.
Participants have reported some remarkable, even life changing experiences, for example in the shift from fear to hope, their ability to see and leveraging new possibilities and to connect virtually with people they have never met face to face in powerful ways. Many new initiatives have been catalysed and others taken to a new scale of possibility.
A Powerful Collective Field
Taking part in the live sessions with thousands of others at the same time feels like being part of a powerful collective field which is almost palpable. It has felt remarkable to be doing this with so many other people globally. The live global mindfulness practices have been key to this. Guided practices for opening the heart and activating its intelligence, both individually and collectively has been core to this.
Of course there is a lot still to be discovered about what this shifts in our immediate spheres of responsibility, what remains connected at different scales and what can be sustained over time. Otto Scharmer describes the shift we need as from an ego-system economy to an eco-system economy. The U.Lab feels like a very exciting experiment in activating collective intelligence globally and new possibilities to help to happen.
So the internet makes a huge amount possible in terms of day to day global connectivity and our ability to work, lead and influence change virtually.  But it is the inner place we are coming from and the quality of attention we bring to what we are part of, that really matters.