The world of business is increasingly complex and competitive. Leaders seek ever-increased performance and higher customer service – but with an ever-dwindling resource base they are looking for ways to "do more with less." To maximise performance all parts of the system need to be integrated and in communication from a position of mutual understanding. A healthy tension between the business and functional agendas is necessary, and when well managed it can be a driver for change and source of creativity.
When managed poorly, the ineffective collaboration and coordination results in strategic "tearing", wasted time, duplication, friction and ultimately poor client service and declining business results. At their best, Business Partners have real opportunity to "drive business impact", as expressed by one of our Clients Nicole Cunningham-Snell:
"Future Considerations have partnered with us to transform our developmental approach to building business partnering capability across all our Global Functions, e.g. Finance, IT, HR, Legal, External relations. A key success factor is Future Considerations recognising that this requires both a deep personal change journey as well as organisational systems interventions, for example, in transforming how the functions collaborate together to drive business impact. Our partnership with Future Considerations has been instrumental in designing interventions which holistically address the cultural change journey required and this has enabled us to make progress over recent years."
Nicole Cunningham-Snell,
VP Learning and Organisation Effectiveness,
Global Functions at Shell
We are often like to start with an informal Business Partnering conversation exploring one of the following challenges or questions:
Do you have one or more of these challenges?
Areas where internal functions are in conflict with the business or at best tolerating each other
A sense that subject-matter expertise isn't being harnessed to its maximum to deliver business results
The implementation of the matrix organization has resulted in decreased performance and increased complexity rather than simplifying things as envisioned
Wide disparities of performance between the same function in different parts of the business or between different functions in the same area of the business
New innovations within functions not being implemented at the required speed or across the whole organisation
Business areas are complaining that the functions are operating to their own narrow agendas and not "understanding the business"
If so, then establishing Business Partnering as an effective role, structure and capability could be part of what's next for you.
If you already have business partnering in place but think there's a potential to further improve its performance

here are some questions to consider:
Does the business understand what the BP role is and how it can benefit from it? Do BPs know how to effectively contract with the business?
Do your Business Partners understand the business imperatives that they are being asked to work towards?
Is there a genuine and effective 2-way communication channel open between the business and the functions? (Blockages can occur just as much back into the function as out of it!)
Are your Business Partners appropriately skilled in sustaining deep trust based relationships with their business leaders and staff?
Do the Business Partners understand how their personal presence is impacting their effectiveness and how they need to change it?
Can the Business Partners operate with clarity and courage under the daily pressures of delivering into the business?
Do Business Partners have any forums to meet and share insights into their roles and how best to serve the business?
Our approach to Business Partnering development programmes
We work closely with our clients to design business partner development interventions which fit their business. We draw on the framework of key Skills, Roles and Outcomes (SRO) to create individual shifts within 6 months of commencing our programme and beyond.
Participant shift
Based on our extensive experience of working with Business Partners, they tell us that their priority needs are to be better able to:
Have difficult conversations
Have clear contracting conversations
Build networks ahead of immediate need
Listen deeply to their business leaders to "get" them and their needs.
Gain deeper business insight
As a result of our programmes, participants begin to report individual shifts within 6 months:
Up to 6-18 months after our intervention, Business Partners report that they have matured in their role and have become trusted advisors to the business through:
Understanding the business better and bringing external expertise to the table
Working more collaboratively within and across functions to add value
Bringing fact-based independent challenge.
Outline of our SRO Framework
"I use the following skills to play these business partner roles and create the desired business partner outcomes."
Skills
Our programmes develop participants ability to maintain independence of thought and action under pressure and to have the courage and confidence to step into difficult situations with skill to build shared and sustainable outcomes. Business Partners leave our programmes with the ability to deeply sense what's most needed in a business, choose the most effective way to relate to others in order to drive forward aligned key business and functional priorities with clear contracting and collaboration.
Roles
We have defined four Business Partnering roles and help create participant insight as to when and how to step in and out of each role. The roles focus on Business value creation, Implementing policy, Bringing expertise and Functional intermediation.
Outcomes
Increased business agility and responsiveness
Creation of short-term and long-term business value
Faster application of innovative approaches and solutions
Effective compliance and control mechanisms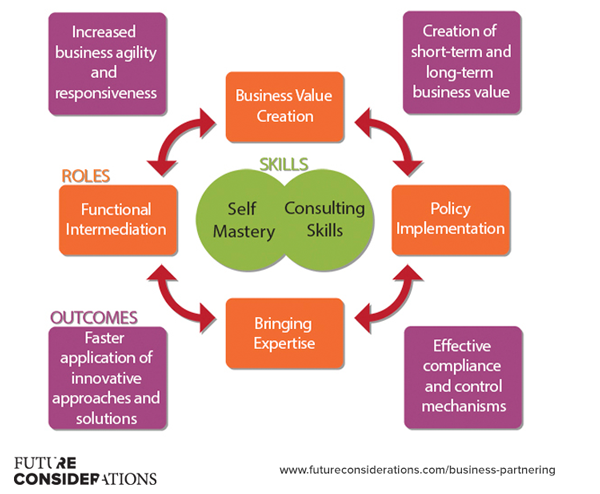 We have delivered a range of interventions targeted to varying Business Partnering maturity levels (Level 1 – Foundation thru to Level 3 – Mastery), ranging from a series of in-person strategic workshops to 6-9 months blended in-person and virtual programmes. Click here to download our Business Partnering brochure (PDF)
Looking for more information about Business Partnering? Please feel free to contact one of our Senior Consultants, all of who have worked extensively on our Business Partnering programmes, any of whom are happy to discuss Business Partnering in general:
Celine McKeown
Celine's expertise bridges organisational purpose and brand, sustainability and leadership development. Her 20 years experience at board and operational levels includes the development of the Unilever Corporate brand in 2001. She can facilitate in English and French.

Jaroslav Dokoupil
Jaroslav has 10+ years experience as a global leadership development and innovation facilitator.  Most recently, he has facilitated several leadership development / innovation programmes for a global financial institution.  He can facilitate in English and Czech.
Tim Stanyon
Tim started out working in IT transformation, which led to 22 years in consulting ranging from some of the biggest (e.g. PwC) to specialist niche consultancies.  He has delivered several multi-million pound projects building extensive experience delivering leadership development programmes. He can facilitate in English.
Alternatively, click here to download our Business Partnering brochure (PDF)
Leadership Development
Our Approach