Resilience
Developing and sustaining our individual and collective ability to "bounce back"
Resilience helps us navigate and thrive in difficult circumstances – needed even more today as organisations and individuals face rapid changes and uncertainty through the Covid 19 global crisis . A definition of resilience  we use is "the psychological capacity to rebound, to "bounce back" from adversity, uncertainty, conflict, failure or even positive change..and increased responsibility" (Luthans).
There is a need for urgent action to support individuals and groups faced with an unexpected "shock" to their working world which might take the form of "emergency coaching", somatic work or just creating safe spaces for speaking out to help them acknowledge the impacts and work towards finding safer, more stable "ground".
Here is an example of an online workshop  "journey" we would take clients on to deal with the immediate impacts of a shock or issue which requires greater resilience.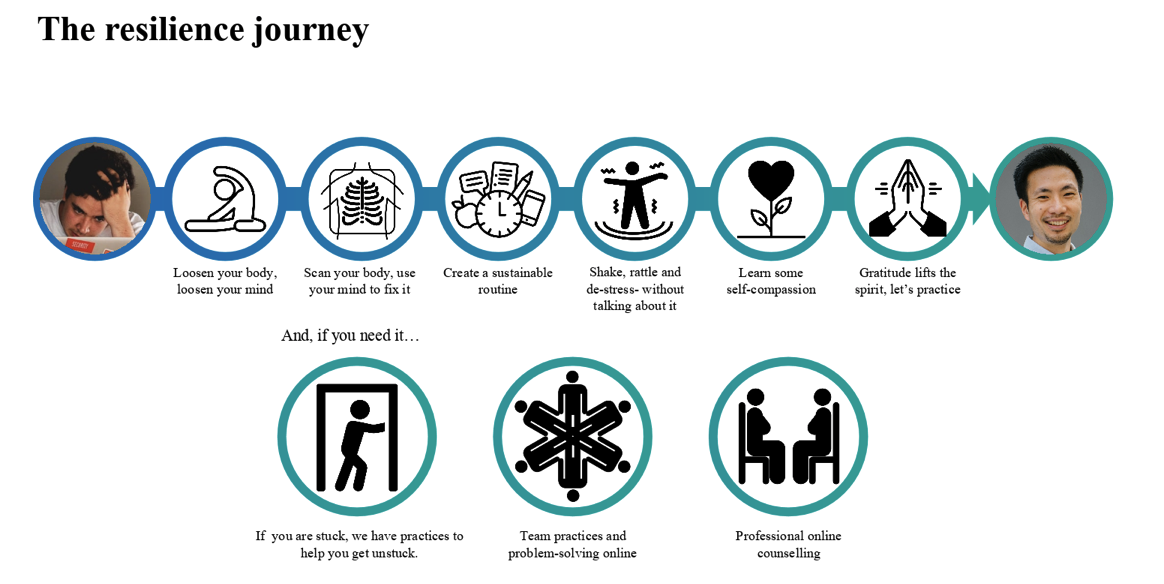 Staying in The Zone
The irony of lockdown is that our boundaries are more fluid than ever. Emailing whilst feeding the kids, zoom calls over dinner and 6am meetings because it's the only chance to get the team together amongst their various competing demands.
At the best of times, it can be challenging to maintain healthy working patterns, but in the midst of a global pandemic, it can feel near impossible. Over time, this can lead to overwhelm, impacting our performance, our physical and cognitive abilities and ultimately our health. Our resilience programme 'The Zone' supports individuals and teams in their ability to sustain high performance under high pressure. Through building knowledge and self awareness, we help individuals identify and take ownership of a few, essential things they need to be at their best, in work and life.
Resilience from Rewilding
When we are able to meet for face to face sessions again, we invite you to an in depth Resilience From Rewilding workshop,which develops personal resilience, using nature immersion, in the beautiful setting of over 300 acres of Orchard House .
This journey involves recognising your own personal patterns, energies and learning ways to recharge and resource yourself.
We are developing an online workshop for this purpose whilst the COVID 19 Crisis continues.
Needs changing over time
We know that these needs will change over time. We are already working with organisations dealing with immediate needs in current crisis.
For the longer-term, we develop skills and tactics to enable individuals and groups to be better prepared for the next "shock" to the system. These might include body- work, mindful practices and other reflective practices to help build the "muscle" of resilience ahead of it being needed.
Organisational Resilience
We understand the importance of developing resilience capabilities in everyone, for organisations to be effective in a turbulent world. This is both an individual and a collective responsibility. It requires work at the individual, team and organisational level.Often, this work puts all of the responsibility on the individual in an attempt to help them to cope better  with their situation. To be most effective it should also be accompanied by work at the organisational and team level. This addresses the cultural and behavioural issues that may be contributing to the individual's stress and facilitates the creation of an environment where people are empowered to take accountability for their wellbeing.
Working at all three levels, enables the organisation to address cultural and behavioural aspects of its own internal working, through developing leaders' awareness of how they are contributing to issues, and giving them skills to influence the culture to enable resilience to grow;  enables teams to make small changes to their own ways of working  to immediately address issues and collaborate better and thus support each other in dealing with issues impacting performance; gives individuals the skills and increased capacity for identifying and taking actions to support themselves in times of difficulty and heightened stress
A key aspect of leadership is the creation of "psychological safety "within the organisation. We have facilitated  "safe spaces" for groups to fully address issues which to date have been hidden and unmentionable; we have developed skills programs to develop capacities of awareness through a series of practices both cognitive and somatic; we have worked directly with leadership groups to help them to address internal group dynamics, which in turn has led them to be more effective at creating psychological safety for themselves and for those they lead. All of this experience is directly relevant to building the capacity of resilience at individual, team and organisational level.
Future Considerations is well placed to address all of these areas. We have skilled practitioners in many disciplines and a long experience of working closely with our clients to build powerful partnerships with them to enable us to be critical friends fully committed to supporting them in the short, medium and long term.