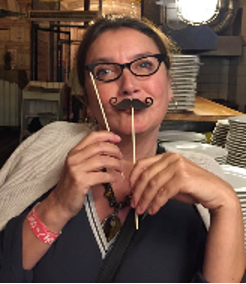 Patricia Weijzen
I was born and raised in Maastricht and my family is strongly rooted in this typical part of the Netherlands with its own language, rituals and culture. I left this strong knit nest in my late twenties and moved to Amsterdam and had to reconsider home: I left friends, family, work, relationships, my house and community behind in the hope to discover me. And I did. The first step is the hardest and after that it was easy to let go and start over and with each step and move to explore, learn and grow. I can look back at many places I can call home. Home is no longer one physical place: home is within.
Patricia started her career in the mid-eighties, as head of learning & development at ING Bank right after university. She started out young, ambitious, driven for success and with a strong belief in the potential and good of people. The latter remained, the other descriptions have changed over the years: young at heart still, and now compassionate and driven for impact. She has never lost her passion for bringing the best out of people and seeing potential that they often fail to see. Having worked for almost two decades in a large organisation she is able to adapt to a corporate culture, speak its language and ride political waves, without losing her gift of deep connection with those she works with.
Working with Patricia means working with a trustworthy partner who delivers on promise. She knows how to bring back complex matters into practicable issues. The combination of her Dutch roots, experience in an international environment and the right mentality lead to high quality solutions

Alica van der Duin – VP Real Estate,  Albert Heijn Real Estate at Ahold Delhaize
Specialties & Passions
Deep listening to what is really needed and alive beyond what is initially said or seen (making the invisible visible)
Establishing a safe and inviting learning space where people feel comfortable to step out of their comfort zone and stretch themselves to the edges of their abilities
Design learning programs, workshops and coaching interventions that are fit to the challenge of growing people and that are fresh, engaging and motivational
Facilitate with compassion, depth and humour.
Work Experience
Over 18 years at ING Bank in the Netherlands in various positions and roles within learning & development, Strategy, Marketing and Sales

Over 16 years owning her own business in leadership and organisational development doing consulting, training, facilitating and coaching. Her clients are globally spread in different industries and sectors including finance, automotive, insurance, pharmaceutical, supply chain, manufacturers.
Qualifications
Master degree Educational Science and Adult development at the University of Nijmegen

Master degree Marketing at the University of Tilburg/TIAS Business school
Certified in:
Integral coaching New Ventures West
PCC level coaching ICF
Richard Barrett Cultural Transformation Tool
Systemic Interventions Bert Hellinger Institute
Systemic Coaching
Hogan Level 1: HPI/HDS/MVPI
Enneagram coaching
Master NLP