I recently had the privilege of working both with my colleague, George Pòr and the NHS in Yorkshire and Humber on a project involving the establishment of a network of Communities of Practice (CoP's). George is an expert in introducing CoP's in Europe and the client in the NHS was hungry to learn.
Communities of Practice (CoP's) break through the traditional boundaries of organisations to bring together those with a deep knowledge and passion for their work. Whilst, in the instance of our NHS client the context was health and, ultimately improving the experience of care for patients, the context for a CoP can be anything from heavy industry to research labs or retail. What is at the heart of the approach is that the people involved have their own strong motivation to be part of it.
What is a CoP?
CoP's are self-organising and self-governing groups of people who share a passion for the domain of what they do and strive to be better practitioners. They pursue a shared learning agenda and they create value for their members and stakeholders through developing and spreading new knowledge, practices and capabilities. This way of working offers an opportunity for people to connect with what it is about their work that is important to them.

To build a CoP, members must interact regularly on issues important to their domain. This allows them to develop a shared understanding of their domain and build valuable relationships needed for the community to function well.
Background to the NHS Yorkshire and Humber Co-Creation Network
Improvement scientists, key clinical staff, organisation development practitioners, patients, service users, carers, community leaders and those committed to real change and transformation are all strategically important in shaping and delivering the health and social care system of the future but they have become disconnected. At this point, we must stress that CoP's are not new to the NHS and have an established place in improvement work. But we recognised the need to reconcile the creative tension between the high diversity of professional circumstances, knowledge and experience of the NHS colleagues interested in participating, and the need for mutual support, and cross-domain learning. In response, we recommended the formation of a 'constellation' or network of a small number of communities of practice defined by their respective domains.

The Co-Creation Network comprises many CoP's, each of which may comprise individual practitioners and/or microsystems.
The network supports people to come together collaboratively as equals to identify what they really care about and want to see change in health and social care. It is passionate about improving experiences and outcomes for people who receive care. It also has a passion to develop ways of practicing and providing care that connect to staff values and ensures meaningful and engaging work.
Mindfulness
People joining the Co-Creation Network reported that they lacked quality time to think about their work and the important issues that surround it. In response, the Network grounded itself in the practice of mindfulness. They have found this to be an effective way for members to join meetings and discussions. A very short mindfulness exercise at the start of meetings ensures everyone is present and able to participate fully. There is also a Mindfulness Community of Practice, exploring how mindfulness is already being employed in healthcare and introducing simple practices that can help people in their day to day work.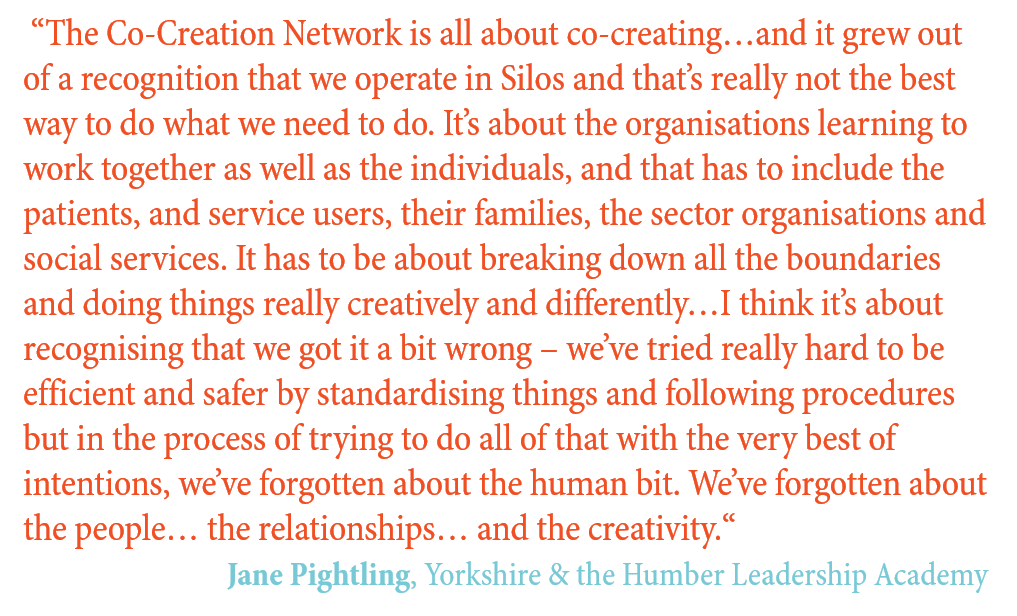 To date in Yorkshire & Humber…
There are at least 20 Communities of Practice sharing, learning and growing together within the Co-Creation Network. A selection include a Community of Safer Medication Practice CoP, Care Coordination in Primary Care CoP, Mindfulness CoP, Patient and Public Engagement CoP and a Continuous Quality Improvement CoP. There is a group of facilitators who support each of the CoP's, ensuring they have access to the CoP resource library, the electronic platform for sharing progress, and capturing the learning. This group is a CoP in itself, self organising in the same way.
As I write this blog, the Co-Creation Network is preparing for its Summer Basecamp, the third one-day event that they've held this year. The event focus is on sharing progress, passing on knowledge about processes that work well, bringing the whole Network together to see the big picture and the impact they are having across the Region and beyond.
The NHS Yorkshire & the Humber Leadership Academy have embraced every aspect of what it means to create a network of committed and passionate professionals to share learn and grow.  And they're keen to take as many people as possible on their journey.  We encourage you to read their latest brochure explaining their journey so far and watching this short film.

We also encourage you to consider how Communities of Practice can inject some fresh creativity in your organisation. These self-managing groups have enormous potential for cross-fertilisation of ideas and approaches as well as energising people to bring more of themselves to improvement and innovation in their chosen fields. The work done in CoP's can be ground-breaking and it often spreads beyond the boundaries of organisations and continents.
Here at Future Considerations, we see our role as helping to maximise community-enabled organisational and business results.  We can do this in many ways, including (but not limited to):
Facilitating Executive seminars on how to create value with CoP;
Internal workshops to raise awareness of CoP benefits and to support on-going networks;
CoP pilot design and support for an organisation establishing either a CoP from a green-field situation or in need of some "turbo-charge" to optimise an existing CoP;
Executive coaching, either for individuals or group support to a specific business function CoP work or facilitation;
Developing company-specific CoP-management handbook;
Creating a sustainable community strategy that considers every dimension of how a business operates in the social, cultural, and economic environment.
To find out more about Communities of Practice and how it can help you with your complex business challenges, please get in contact.