Four practices for developing authentic leadership
There's crisis of leadership in many modern organisations:  Who are they serving? What is their essence? How should they operate? Can they really claim to be demonstrating authentic leadership?
This week reveals the most shocking analysis of how a major 'public service', South Yorkshire police, not only systematically covered up, for 27 years, its culpability in the deaths of 96 football fans, but how it brazenly and knowingly set up innocent others as the causes of the tragedy at Hillsborough stadium.
Take another sector, the banking industry; watching the Academy awarding-winning film, The Big Short, gives an amusing, insightful and again shocking view of how large systems, in this case banks, can sometimes act in a cynically self-serving manner.
Business professor, Gary Hamel set out an agenda for corporate reform in his book, What Matters Now, including an explicitly spiritual section on values, entitled 'Reclaiming the Noble'. Whilst Hamel wrote a business book, not a religious book, he came close to an almost biblical call for corporate leaders to repent, which means to turn around and wake up to reality.
It is easy and unhelpful to simplify the situation into good guys and villains; the picture is usually more varied than our caricatures allow for. Let me illustrate this with the case of South Yorkshire police and the question of how power is exercised, or not. There were figures in South Yorkshire Police who created a culture of fear and management by edict; and there were many people around them who went along, not questioning their decisions despite their unease, no doubt because in the moment it seemed impossible or unwise to question; there were others who acted venally; and yet other police officers who acted with honesty, humanity and integrity.
How do such devastating system failures come about, whether in police, banking or healthcare, or any sector? And how do we create healthier, wiser, more compassionate systems?
Having worked intensively for years on a number of large global company projects, last year I stepped out of this work to take stock; I was no longer convinced the leadership and consulting work that I was involved in, was making any difference at the systems level. In fact I was concerned that by building the capacity and strengthening the effectiveness of current leaders, without a strong enough contract to evolve the system, we were in danger of actually making things worse, by unwittingly and, perhaps naively, reinforcing the status quo. This is a complex, messy area with tough questions and few easy answers.
Defining authentic leadership through spirituality
Spirituality is the search for meaning and purpose, finding that deepest part of our being and the ground on which we stand and live our life. Authentic leadership is the ongoing inquiry into how we put the insight of spirituality into practice in the messy, everyday context of living and working.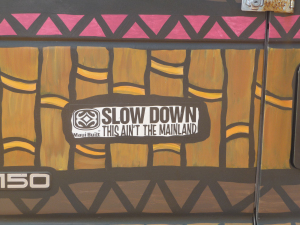 Last month, as I turned 50, I took the opportunity to take stock, through a three week meditation retreat in Hawaii, the last ten days of which were in silence, and to see what remained, what was essential, when the muddy, turbulent waters of my mind settled.
As a young man in my mid-twenties I remember reading Walden by Henri David Thoreau who went to live alone in the woods in Concord for two years. Thoreau's words then (1854) spoke to the motivation that took me on an extended retreat now:
"I went to the woods because I wished to live deliberately, to front only the essential facts of life and see if I could not learn what it had to teach and not, when I came to die, discover that I had not lived."
I came back from retreat not with a fully worked answer to the question of organisational systems reform but I do have valuable insights and renewed commitments on how I want to work and live as I explore these questions afresh in this coming decade. I trust the observations and lessons may ring true for you too.
Practice 1: Recognise your own automated patterns.
My in-depth exploration of meditation dates back to 2002 in Halifax, Novia Scotia, Canada.  I was participating in a global week-long gathering of 300 people interested in Authentic Leadership. Each morning and evening, as we began and ended the day we meditated as a large group for 45 minutes. What I discovered to my surprise, horror and only sometime later, amusement, was that what I took for my active, creative mind was in fact a series of repeating thoughts dressed up as new thinking. My mind, like most other people's in its ill-disciplined habitual state, operates like an old fashioned film on a repeating reel, with the same few thoughts repeating themselves. What is shocking to realise is that of the 60K-90K thoughts a day you have, probably 90-99% are repetitive. Most of us are ignorant of this. In some ways we might ask ourselves, are we truly alive when so much of our feeling, thinking and action is on automatic?
Through my work with Dr Joel and Michelle Levey, who led the Hawaiian retreat and with whom I've worked in recent years, I've come to fully appreciate just how crucial our attitude is: attitude is the lens through which we see and filter the world. We awaken slowly; for most of my life I have looked out at the world, and looked in on myself, with a harsh, critical, judging eye.
This uncomfortably came to my notice (again) in the 10 day silent retreat in Hawaii. I found myself becoming very critical, in my head, of a fellow retreatant. I noticed I was triggered by her actions: not following the house 'rules' of the place where we were staying. When I reflected on her minor transgressions, I recognised the lens: my judgmental rather than my curious and compassionate eye.

Practice 2: Be present. Show up for your life.
One of the practices we did on the Hawaiian retreat was a walking meditation: you take a short stretch of ground and that becomes your 'walking alley'.  As I walked up and back this 20m stretch for 45 minutes, whole universes of depth and subtlety emerged that were invisible to me at first glance. Notice how often in our over-quick naming or labelling we miss so much of the world. That's a bush, this is a flower. On closer investigation the bush is much more diverse and interesting than its' homogenous-sounding label: bush. The bush is in fact in various stages of opening: some branches are in bud, some are bearing fruit and others flowers.
Each flower has different hues of purple. I am reminded of the quote by Alice Walker:  "I think it pisses God off if you walk by the color purple in a field somewhere and don't notice it."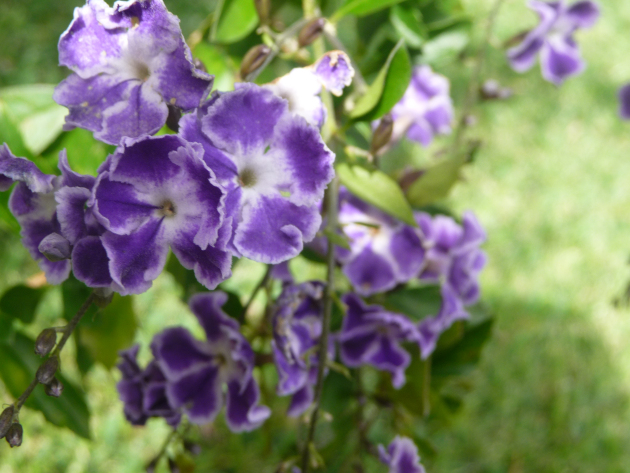 None of this beauty and complexity was evident to me initially when I was preoccupied with thinking: my preoccupations are usually future-oriented (planning, rehearsing, imagining, fretting); for you it may be a preoccupation with the past. Either way this kind of distracted, mindless thinking takes us away from our senses and the present moment, the only moment that is presenting itself to us now.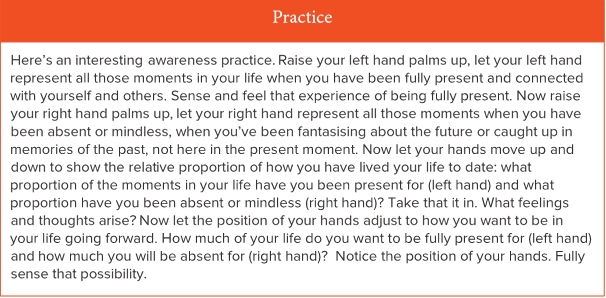 Practice 3: Slow down and connect to your centre
The Quakers talk about 'the violence of haste', a phrase I find powerfully descriptive of our world and much of my life.  Too often we notice our absence when the moment has passed. The quote below from Nadine Satir, 85 years old, of Louisville, Kentucky, captures the yearning I have to be present in my life.
"Oh, I've had my moments, and if I had to do it over again, I'd have more of them. In fact, I'd try to have nothing else. Just moments, one after the other, instead of living so many years ahead of each day." 
I've walked labyrinths as a meditative practice for the past 25 years. A labyrinth is a single, spiralling path which takes you to a central area and back out again to the beginning on the same path. The path sometimes draws you close to the centre and at other times sweeps you away from it, sometimes there are long, open stretches of path, at other times the path doubles back on itself in an about-turn. In this way the labyrinth provides a mirror for life's experience.
I walked three different labyrinths on my retreat in Hawaii. Recently, I've come to think of my life as like walking a labyrinth. Rather than rushing on in haste to my destination, some place in the future, and trying to control my life and then becoming frustrated when it's not the straight path from A to B that I want, I'm now more curious of how I can accept and embrace life's circuitous, spiralling nature. Also, I ask myself, how can I maintain a connection to my centre as I circle through the days, weeks, months, seasons and years of my life's path? To me the centre means that deepest part of ourselves which goes by many names: in secular language we might name it purpose, essence, integrity, Big Self; in spiritual language we might name the centre as our inner light, Spirit, God, in Hawaii they call the centre the Great Mystery (Keakua).

Practice 4: Adopt a regular practice of gratitude
One of the gifts of my three week retreat in Hawaii was to reconnect with the everyday wonder and miracle we call life. This doesn't mean we shut ourselves off from the suffering and pain in the world; rather we open our heart, mind and spirit to the full catastrophe of living, as Jon Kabat-Zinn puts it: the joy and pain, the challenge and the triumph.
Adopting a regular practice of gratitude (in your first waking moments of the day, at mealtimes, at the close of the day) is a great way to acknowledge the gift of life itself, with its innumerable blessings, and the contributions that others make to our life and work.
Re-reading this point, I wonder if some of you may consider this woo-woo, too pollyannaish?
However ponder this; most of us have very well-established BMW practices: Blaming, Moaning, Whining practices which we do individually in our heads, and as collective rituals. People regularly tell me that between 25-50% of available time and energy in their organisations gets caught up in BMW behaviour or what Barry Oshry calls the 'Side-Show'.
How about starting an intentional gratitude practice as a healthy counter-balance? Joanna Macy, in her book, Active Hope, reminds us that recognising the gifts in our life is profoundly strengthening and "by savouring these gifts, you add to your psychological buoyancy, which helps you maintain your balance and poise when you enter rougher waters." A moment of gratitude strengthens our ability to look at and respond to, rather than turn away, from the pain and suffering in the world.

Find a wise guide
Some people are fussy eaters. I've always been fussy about finding good teachers and wise guides. I've been blessed to have found many good teachers and mentors over the years.
On the long flight back from Hawaii, I had a long layover at Los Angeles airport. I met a young man from the U.S., who was just returning from a year in Asia, whilst he had had an interesting year he had also been chastened by joining workshops and living in communities which were dominated by groupthink, manipulation and egotistical people masquerading as spiritual guides and mentors.  I was blessed in Hawaii to find two wise guides in the persons of Joel and Michelle Levey and the fellow retreatants who showed up from across the world and were prepared and able to create those conditions.
Create safe spaces
People argue about what is at the core of our humanity and many books have been written naming, and arguing about what this core essence is, and how we name this territory. I like the word soul but it is known, as I said earlier, by many names: integrity, inner light, true self, pure awareness. There needs to be safe space for us to explore this core of our being: the dilemmas, difficulties and dis-ease we experience in our life; and also our soul's desires and deep longings.
Parker Palmer is the person who has written most cogently about how to create space where the soul feels safe enough to show up, in his book A Hidden Wholeness, The Journey Toward An Undivided Life. Parker's words eloquently capture the connection between spirituality and leadership so I will end with those:
"Spirituality, like leadership, is a hard thing to define. But Annie Dillard has given us a vivid image of what authentic spirituality is about: "In the deeps are the violence and terror of which psychology has warned us. But if you ride these monsters down, if you drop with them farther over the world's rim, you find what our sciences cannot locate or name, the substrate, the ocean or matrix or ether which buoys the rest, which gives goodness its power for good, and evil its power for evil, the unified field: our complex and inexplicable caring for our life together here. This is given. It is not learned."
Here Dillard names two crucial features of any spiritual journey. One that will take us inward and downward, towards the hardest realities of our lives, rather than outward and upward toward abstraction, idealisation and exhortation. The spiritual journey runs counter to the power of positive thinking.
Why must we go down? Because as we do, we will meet the darkness that we carry within ourselves – the ultimate source of the shadows that we project onto other people. If we do not understand that the enemy is within, we will find a thousand ways of making someone "out there" into the enemy, becoming leaders who oppress rather than liberate others.
But says Annie Dillard, if we ride those monsters all the way down, we break through to something precious – to "the unified field, our complex and inexplicable caring for each other", to the community we share beneath the broken surface of our lives. Good leadership comes from people who have penetrated their own inner darkness and arrived at the place where we are at one with one another, people who can lead the rest of us to a place of "hidden wholeness" because they have been there and know the way."
Parts of this blog were published as a series on Living Leadership.
John Watters is an Associate of Future Considerations. He introduced Barry Oshry's work into Europe over 15 years ago and runs accreditations in all of Oshry's programmes worldwide on behalf of Power+Systems, where he is a Senior Associate. John specialises in consulting on stuck or complex situations where a breakthrough in mindsets, developing authentic leadership, ways of working, and performance is desired. To find out more about how Future Considerations can help steward new ways of organising in your Organisation, please get in touch.
2 responses to "Four practices for developing authentic leadership"