Reinventing Organisations – where talent blooms and our callings are honoured
Frederic Laloux's highly acclaimed management book Reinventing Organizations explains how every time humanity has shifted to a new stage of consciousness, it has also invented a radically more productive organisational model. I witnessed this new stage of consciousness come alive in the audience at the RSA London last week, as Laloux talked about his Evolutionary-Teal perspective and his view on How to become a Soulful Organisation. You can watch a 7-minute excerpt of his talk here. Or if you want more, you can find a 20 minute version  of it (the talk is 20 minutes, the rest is Q&A) here.
I'm working in a company without bosses. We all feel that our evolving, collective purpose is aligned with our own life's purpose, albeit to different degrees.  Top down performance appraisal is replaced by peer reviews. We start our meetings with a few minutes of attention training that some call meditation. This helps us become centred and reduces the distracting inner chatter. In our company, sharing what would be a dream project for each of us to work on inspires all. It's not a utopian nowhere land. We do have frictions, but they are actually invited when principle-based objections to a proposed decision can make it better. I'm proud of our company, enjoy working there and wish that people everywhere could work in such conditions if they choose to.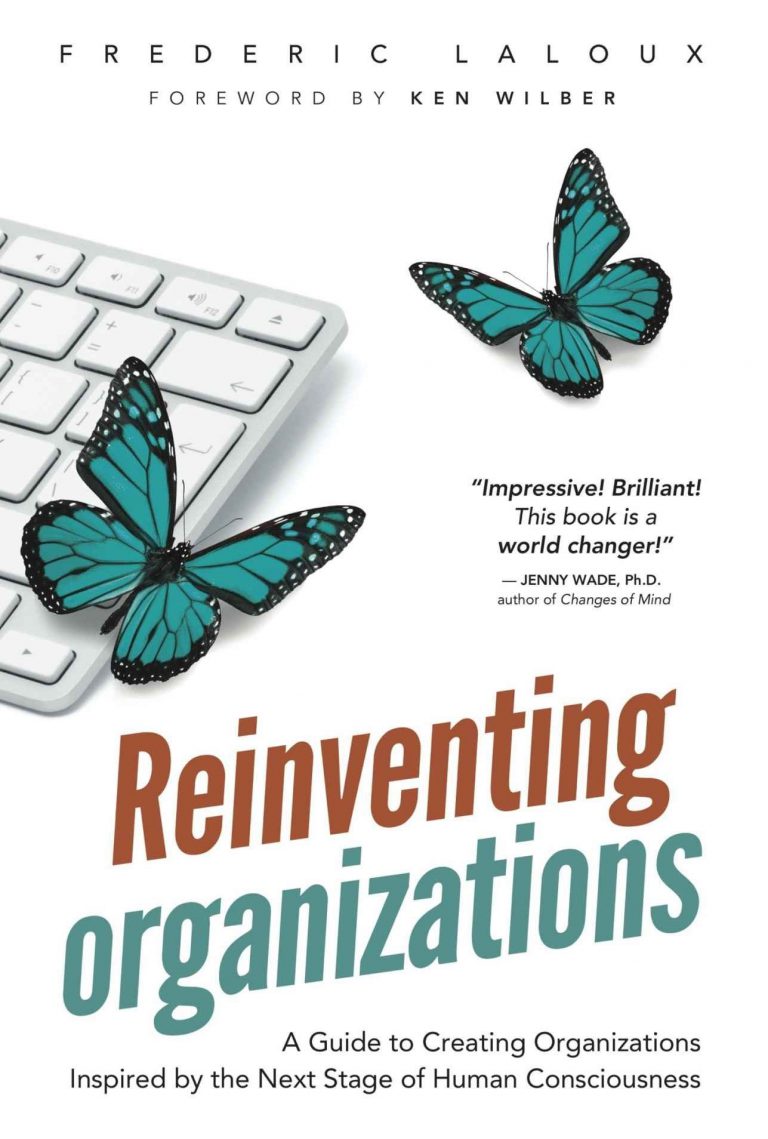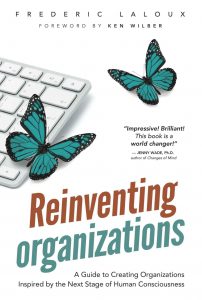 Are we at Future Considerations the only lucky ones, who managed to change the rules of the game?
Certainly not, but the still relatively few "new paradigm" companies are in sharp contrast with what Laloux described as follows: "The widespread lack of motivation we witness in many organizations is a devastating side effect of the unequal distribution of power. For a few lucky people, work is a place of joyful self-expression, a place of camaraderie with colleagues in pursuit of a meaningful purpose. For far too many, it is simply drudgery, a few hours of life "rented out" every day in exchange for a paycheck. The story of the global workforce is a sad tale of wasted talent and energy."
Laloux is, of course, not the only one to note that. A reviewer of his book in IBM Connections wrote: "Survey after survey shows that a majority of employees feel disengaged from their companies… All these organizations suffer from power games played at the top and powerlessness at lower levels, from infighting and bureaucracy, from endless meetings and a seemingly never-ending succession of change and cost-cutting programs. Deep inside, we long for soulful workplaces, for authenticity, community, passion, and purpose."
Well, that's certainly true, but longing is not enough. Fortunately, Laloux goes further, and he is asking, "Can we create organisations free of the pathologies that show up all too often in the workplace? Free of politics, bureaucracy, and infighting; free of stress and burnout; free of resignation, resentment and apathy; free of posturing at the top and the drudgery at the bottom? Is it possible to reinvent organizations, to devise a new model that makes work productive, fulfilling and meaningful? Can we create soulful workplaces – schools, hospitals, businesses and non-profits – where our talent can bloom and our callings can be honored?"
Laloux's book has a rich set of case studies of organisations whose experience provide a big YES to those questions. There are three common elements in their practices. In this video Laloux explains them.
At minute 36, the talk goes into self-management; at minute 52 into wholeness at work; and at 1:06 into the evolutionary purpose in organisations.
Another reviewer of Laloux's book, senior change architect Bill Veltrop wrote,  "Our top-down, control-over-people, compartmentalized organizational designs are not a good fit for our times. Their rigidity leaves such organizations highly vulnerable in our volatile world."
The subtitle of the book – "A Guide to Creating Organizations Inspired by the Next Stage of Human Consciousness" refers to something larger than a new management style or fad. It refers to the subsequent stages in the development of our consciousness, which finds a reflection in how we manage our organisations. The diagram below connects those stages with the corresponding management paradigms, inspired by the framework of integral philosopher Ken Wilber.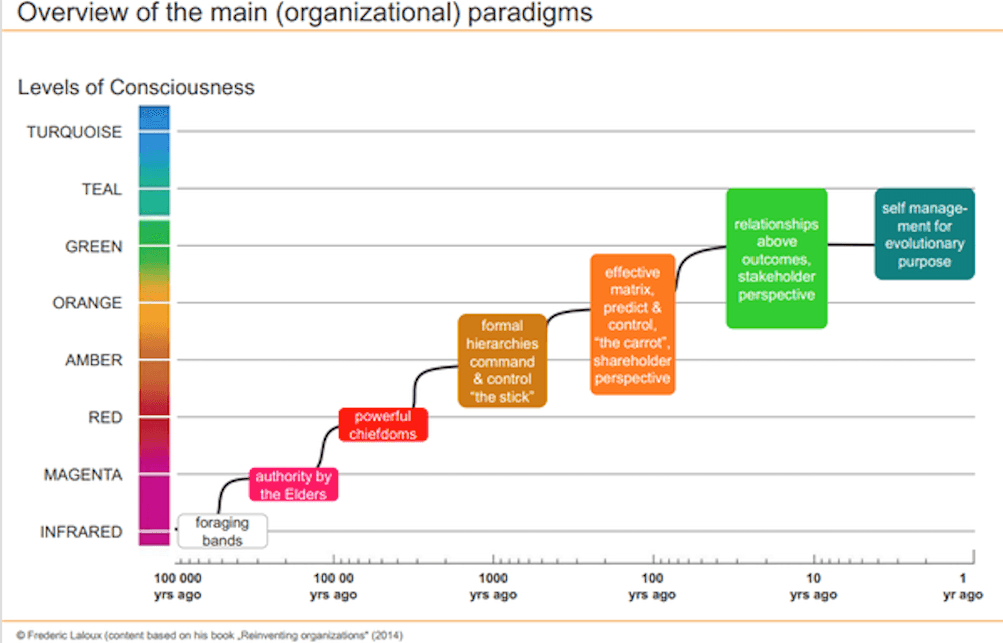 Laloux's book is the result of 3 years of groundbreaking research into the emergence of an alternative to the organisational cultures and structures we inherited from the past two centuries that don't serve us anymore. Most of the companies featured in his book are small to medium size, and one of the pushbacks the book frequently receives, including from my students in the MBA class (where it's required reading) is this: Can it really work with large, very complex companies?
A good example of "yes, it does" is Zappos, one of the world's largest online shoe stores, worth well over $ 1 billion, which has 1,500 employees and a family culture. It also has a structure with no job titles, no managers, run by self-managing teams capable to handle complexity, as described in Huffington Post.
However meeting the challenges of large-scale complexity with self-management is not a trivial task. To make that happen, by replacing command-and-control with sense-and-respond, employees have to be very clear on what they need to do and why.
As Lee Bryant said in his blog on 'Frederic Laloux: there is something in the air' – "Although the heart of this approach lies in humanising organisations, I think technology also has a key role to play especially in larger firms. Better tools are needed to help local leaders see the shape and capabilities of their organisation as it changes, and could also help scale the advice process, resulting in greater transparency of thinking and decisions as well, which can remove one of the basic arguments for management oversight and formal reporting lines because everything is visible. A good example of this is the way Automattic, the company behind the WordPress platform, operates as a virtual organization."
Here at Future Considerations, we have been following Frederic Laloux's journey closely since he published his book last year.  Future Considerations to us is a living system powered by the three common elements of all soulful companies, as mentioned above: Self-Management, Wholeness at Work and Evolutionary Purpose.  We are passionate about midwifing the emerging world of this organisational paradigm, by prototyping, in partnership with Laloux, workshops and simulations that will help organisations realise the benefits of reinventing themselves for the 21st century. If you or your organisation would like to get involved, or just to be on our mailing list to receive more information (when it will become available), then please comment below or get in touch, by contacting Kylie Taylor kylie@futureconsiderations-copy.dev.
20 responses to "Reinventing Organisations – where talent blooms and our callings are honoured"