Sustainable Development Goals – Upgrading the business agenda
I have recently returned from 10 days in New York. They weren't any 10 days. They were the 10 days around the UN Sustainable Goal Summits. I was privileged to witness the largest gathering of world leaders in history for the adoption of 17 Global Goals for Sustainable Development. What a buzz it was to hang out with pioneers, visionaries and Industry disruptors.
During my time, I was invited to attend various forums specifically looking at how to integrate the Global Goals with existing and new initiatives in all aspects of society: Government, Non-Government, Youth led movements, and Businesses.
Here are a few highlights:
UN General Assembly: the 2030 agenda for sustainable development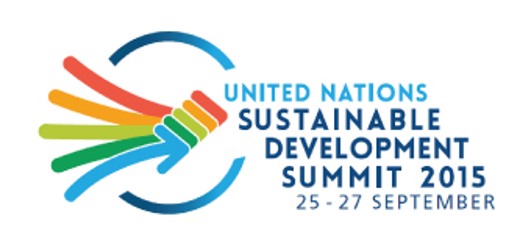 The ‪Sustainable Development Goals (SDGs) were formally adopted by 193 countries. A working group was set up 3 years ago and for the first time in the history of the UN a project was finished 6 weeks before due date. While the UN has facilitated this great work, it is up to the countries who adopt them AND each one of us to engage in action to accomplish them.
This is a call to bottom up action as well as top down direction. The SDGs have the power to align us as global citizens and to express our unique creativity and work towards a common goal.
Divest Invest: movement to divest from fossil fuels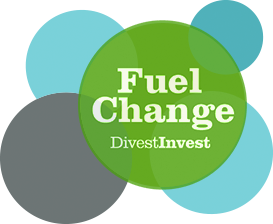 Press conference attended by Divest Invest movement and personally attended by Leonardo DiCaprio where he made a public statement committing to divest his personal Portfolio from fossil fuels.
Every dollar invested in new fossil fuel projects is high risk capital, which might end up as stranded investment. From a USD 50 billion commitment last year, to date, 430 institutions and 2,040 individuals across 43 countries and representing USD 2.6 trillion in assets have committed to divest from fossil fuel companies.
B Team: the end of business as usual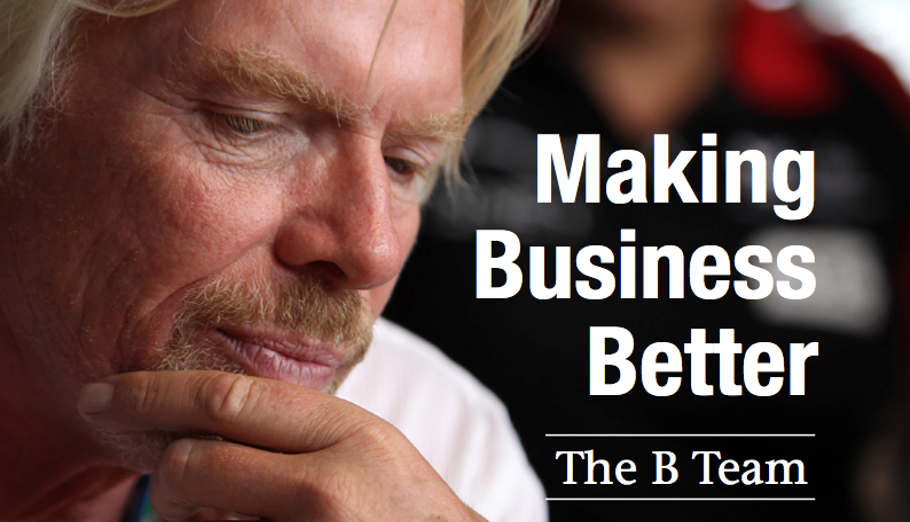 This was a high level discussion on how business can align with and help achieve the Global Goals was hosted by the Ford Foundation. Some of the world's most innovative and ambitious leaders, including Graça Machel, Johan Rockström, Sir Richard Branson, Paul Polman and David Crane contributed their thoughts on how business leaders can do more to meet the goals, and what the barriers and conditions for success are likely to be. Watch #BTeamlive from the summit.
2015 will probably go down in history as the year that everything began to change.
What is abundantly clear to me is that there is a Global Shift taking place.  2015 will probably go down in history as the year that everything began to change. If you and your organisation are not awake to it, beware, you may be left behind…
In light of that, let's look at the gap and opportunity.
Sustainability has not yet found its rightful space in the Boardrooms as an equally important aspect of an Integrated Company Strategy
Business cannot succeed in a society that fails. The majority acknowledges that we face many complex societal challenges that need to be addressed in the immediate and near future. The question is whether business will join hands with governments and civil society to build a thriving environment. Or will business just continue business as usual and participate only to the extent it is regulated for and required to do?
When I returned from New York, I attended a debate hosted by 2Degrees and sponsored by Barclays entitled 'Is CSR dead?'. On one side was John Elkington of Volans and originator of 'Triple Bottom Line', and on the other side was Mark Kramer of FSG and author of 'Creating Shared Value'. The debate centred on Corporate Social Responsibility (CSR) v/s Corporate Shared Value (CSV).
The essence of the debate questioned how much of CSR performance reporting translates into meaningful action. What is the impact of CSR really, and the extent and depth of real change for the better? And similarly, questioning that CSV only results in incremental change limited to the areas of business interest with a risk of aspects of environmental and social change not being included in the business agenda.
Don't get me wrong. I am not advocating dismissing CSR or CSV totally. Far from it. We do, however, need to stand back and see their roles within a bigger picture of global transition to fulfil the Sustainable Development Goals; helping to raise our understanding, and in providing a valuable step toward what might come next.
Business sustainability is often defined as managing the triple bottom line; managing profits, people and planet. This framework allows companies to manage their financial, social and environmental risks, obligations and opportunities. However, this framework relies on an accounting based perspective and does not fully capture the time element that is inherent within business sustainability.
A more robust definition should be that business sustainability represents resiliency over time; businesses that can survive shocks because they are intimately connected to healthy economic, social and environmental systems.
The World Council for Economic Development (WCED), defines sustainable development as development that "meets the needs of the present without compromising the ability of future generations to meet their own needs." So, for industrial development to be sustainable, it must address important issues at the macro level, such as: economic efficiency (innovation, prosperity, productivity), social equity (poverty, community, health and wellness, human rights) and environmental accountability (climate change, land use, biodiversity).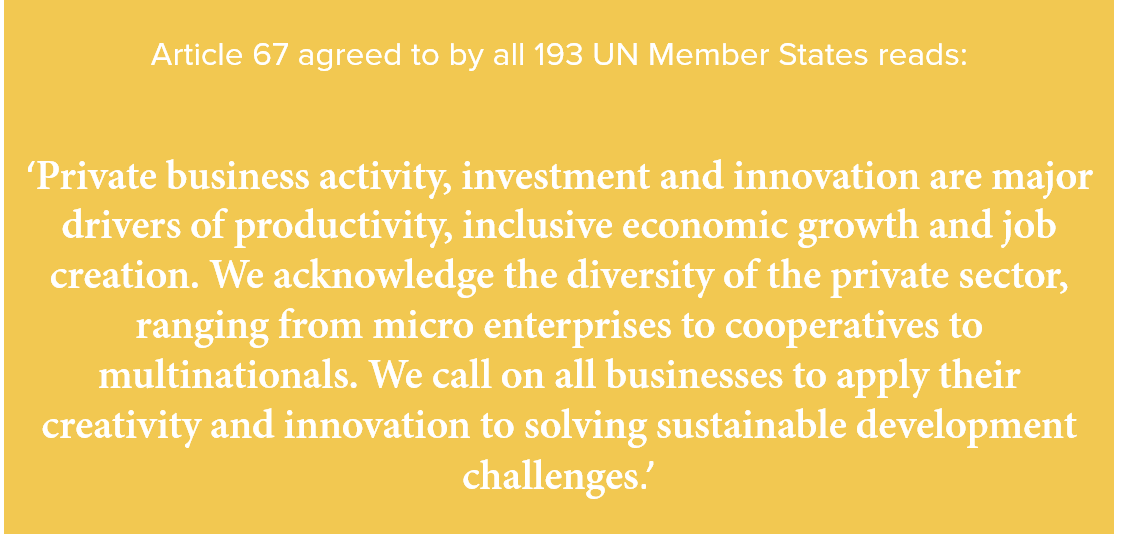 There is an emerging global consensus that business is the engine of economic growth and international development, and that business can and must play an indispensable role alongside government, civil society and communities to solve complex, global challenges like hunger, poverty, inequality, unemployment and climate change.
Yet the reality is that sustainability has not yet found its rightful space in the Boardrooms as an equally important aspect of an integrated Company Strategy.
A call for Bottom Up action as well as Top Down direction.
The Sustainable Development Goals offer a metric driven, aspirational, Global Agenda. A global agenda that challenges the business community to reimagine sustainability and to look afresh at how they can achieve goals that can create tangible shifts in the global system. Now that's exciting…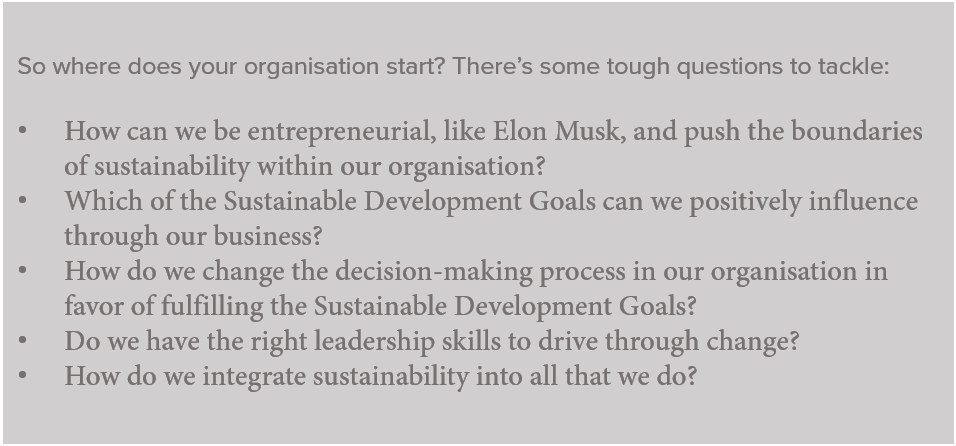 However tough it may feel, I believe that by integrating the Sustainable Development Goals into your business strategy, tangible shifts in the global system can be made.
Isn't it time you reconsidered the future that you want – socially, economically and environmentally?
You've nothing to lose. Potentially everything to gain.
"It's time to breakthrough or bust…"
Darshita delivered a powerful TEDx talk earlier this year at St Andrews University.  A Millennial herself, she calls for the transfer of power from the Baby Boomer plus generation to the Millennial Generation in order to safe guard the future of humanity. Listen to her integrated proposal of how to engage Millennials worldwide to participate in the fulfilment of the Sustainable Development Goals.